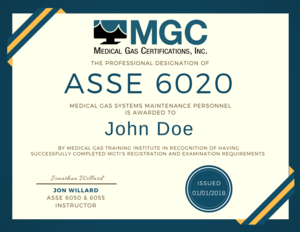 ASSE 6020 Inspector ($695)
The ASSE 6020 Inspector Program was developed to provide qualified individuals with the certification necessary to inspect medical gas and vacuum systems in healthcare facilities.
Description
The ASSE 6020 Inspector Program was developed to provide qualified individuals with the certification necessary to inspect medical gas and vacuum systems in healthcare facilities. Along with general knowledge about medical gas and vacuum system installation and testing, this certification covers the code requirements within the scope of NFPA 99, NFPA 55 and other applicable codes, laws, and standards. This certification consists of verification of prerequisites and a required 24-hour training course, along with a written certification exam. See the Candidate Handbook for more details.
Candidates eligible for the ASSE 6020 program MUST attain a copy of NFPA 99: Health Care Facilities Code, 2018 edition. This text will be referred to during the training modules and will be required for completing the program. In addition to these texts, it is recommended that the following documents be attained as well, but they are not required.
ASSE Standard Series 6000: Professional Qualifications Standard for Medical Gas Systems Personnel
NFPA 55: Compressed Gasses and Cryogenic Fluids Code
CGA M-1: Standard for Medical Gas Supply Systems at Health Care Facilities
CGA P-18: Standard for Bulk Inert Gas Systems at Consumer Sites

The program fee must be received prior to starting the program. The program fee covers the following items.
(24) Hour Online Training Course (Separated into multiple lessons and practice exams)
Access to program author for questions and clarifications
Certification Examination (MGTI Exam Only)
ASSE 6020 Certification Card (Provided by MGTI)
Certificate of Completion (For Non-MGTI Certifications)
Candidates have one (1) year from the date they begin the program to complete all the requirements. Failure to complete these requirements within one (1) year will result in forfeit of program fees.
Final Exam
Upon completion of the (24) hour training program, the candidate may register to complete the Certification Examination.  The examinations are administered by the Medical Gas Training Institute (MGTI) through an online testing solution. The exams are made up of multiple-choice and true/false questions, and the passing score for this exam is 70%.  The results are available immediately after completing the exam.  If the candidate is successful in passing the Certification Examination, wall certificates and certification cards will be sent by MGTI via U.S. Mail to the newly certified individual.
The certification examinations are designed to test for the candidates' knowledge and understanding of the applicable codes, standards, and practices required for this specific certification. Examination structure and content are based on information reviewed during the (24) hour training program, as well as, the  NFPA 99: Health Care Facilities Code, 2012, 2015, and 2018 editions, NFPA 55: Compressed Gases and Cryogenic Fluids Code, current edition, ASSE Series 6000 Professional Qualification Standard, and many other generally accepted industry documents, policies, and procedures that are discussed throughout the program.
Requirements
Candidates must meet the following requirements in order to become ASSE 6020 Certified.
All candidates shall be employed by a governmental unit as a plumbing and/or mechanical inspector, or as an administrator of such inspectors OR be a person regularly involved in the design, inspection, or verification of medical gas systems, OR be an ASSE 6010 Installer.
All candidates shall have a minimum of two (2) years of documented experience OR any combination of the above.
All candidates shall have successfully completed a twenty-four (24) hour training course covering all aspects of the ASSE Standard 6020.
All candidates must successfully pass the final examination.
ASSE 6020 Candidate Handbook
1 file(s)  288.42 KB
DOWNLOAD

IMPORTANT: This certification does not allow for installation of medical gas systems. If you wish to install medical gas piping, please contact 
Major Medical Hospital Services, Inc.
 to obtain information on the ASSE 6010 Medical Gas Installer certification.